Track Club is Marmoset's new small-batch, meticulously-curated music licensing subscription app with 100% customizable music.
Marmoset has always been in the business of music licensing for films, ads, podcasts, you name it. With Track Club, we're now giving high-volume content creators access to the same quality tunes at an affordable subscription price, and with the ability to customize tracks to their needs, all right within the app.
To prove it, I'm going to walk you through how I used Track Club to quickly and easily create the perfect soundtrack for a 30-second video I'm making – a relaxing forest flyover, one of my favorite genres on YouTube! Scroll down to see the finished product.
Step 1: Sign Up For Track Club
Track Club is a web-based app, so all you need to do to get started is go to trackclub.com and navigate to the billing menu.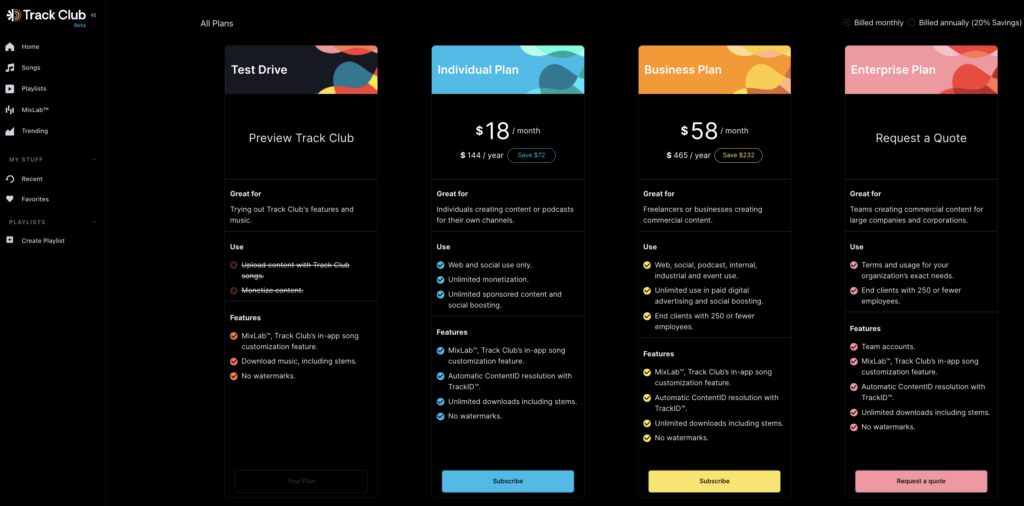 I'm using the Test Drive plan for this demo, but you can choose between Individual, Business or even get a custom quote with an Enterprise plan if you're creating content for large companies or corporations.
If you're not sure yet, you can also click Test Drive, which gives you access to Track Club for free, but without legal use of Track Club music on your channels.
Step 2: Use Smart Filters To Find Your Perfect Song
Once you've chosen your tier, you're ready to find the perfect song for your project. Head on over to the Songs page, where you'll find a list of Track Club songs.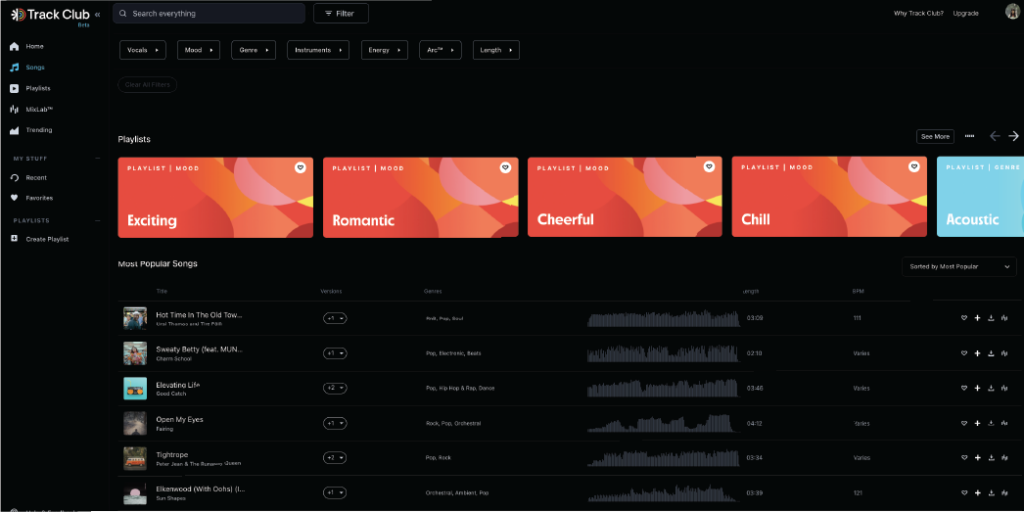 To get started, think about what kind of song you'd like to include. Is it upbeat? Slow? Do you want to make sure it has piano, or a great drum line?

At the top, you'll see 7 main filter categories, including  Vocals, Mood, Genres, Instruments, Energy, Arc (Marmoset's trademarked feature that uses a line graph to depict the rise and fall of a song's crescendo), and Length. You can use these to narrow down your search.

For my forest flyover video, I'm looking for something relaxing and measured, but I'm pretty open to if it has vocals or any particular instrument, so I'm setting my Mood filter to Calm, my Genre filter to Ambient, and my Energy filter to Steady. You can select as many as you want at the same time, and still get quality results.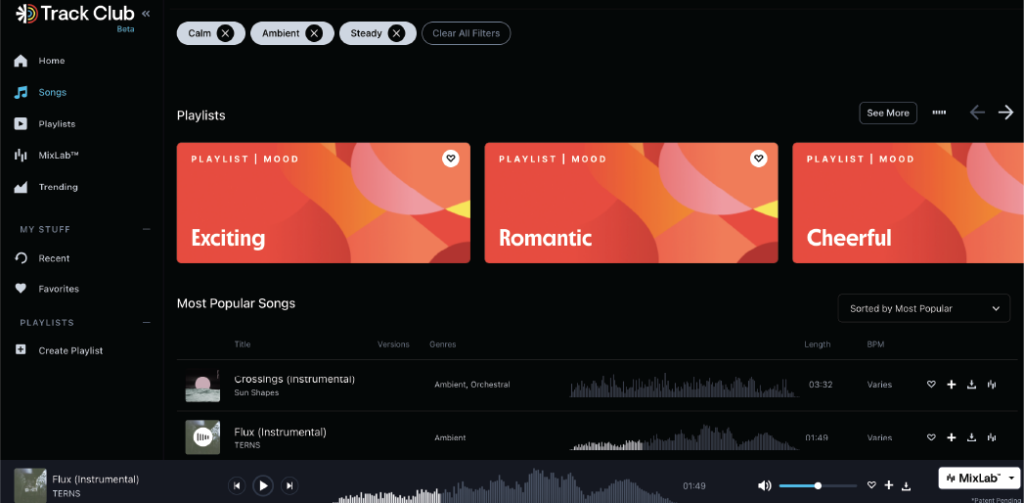 The number of results go down as it becomes more refined. With Track Club, you don't ever have to waste your time weeding through thousands of bad songs just to find one gem. Ten minutes is all you need to find a song that will truly elevate your project.
Now we move on to the fun part – listening to the results! I want to point out that you have sorting options on the right here as well.
I've gone through and listened to a few songs, and decided I really like the Flux Instrumental by TERNS (you can hear it yourself here).  The song sounds exactly like what I'm looking for – a calm, steady, ambient track for my forest flyover video. Except for this project, I'm hoping for less synths and sound effects and to really let the beautiful piano melody stand on its own. That's where MixLab comes in.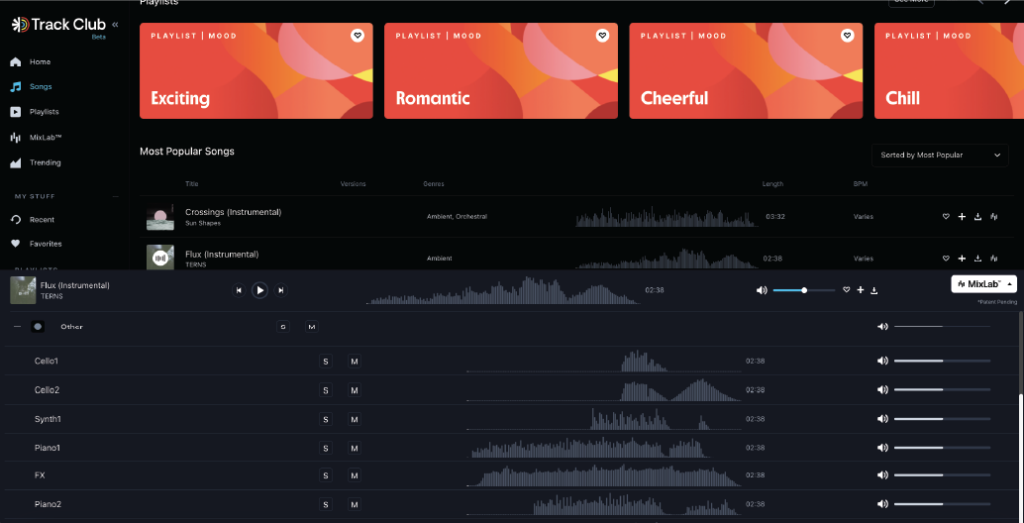 Step 3: Use MixLab to Customize Your Song To Your Needs
MixLab is Track Club's built in song customizer, which gives you the ability to increase and  decrease the volume of each individual stem. Track Club provides you unlimited custom stems, which are the individual instruments and sounds that make up the whole song that you can easily customize and download: from the vocals, drums, bass, guitars, and much more.  By clicking the customize button, you can see this on the MixLab menu- each individual stem is included here in a list.
Like I mentioned earlier, I'd really like the beautiful piano melody to stand out on its own, so I'm going to mute some of the synths and lower the volume on the water sound effect. I've made the adjustments using the volume bar and the mute button.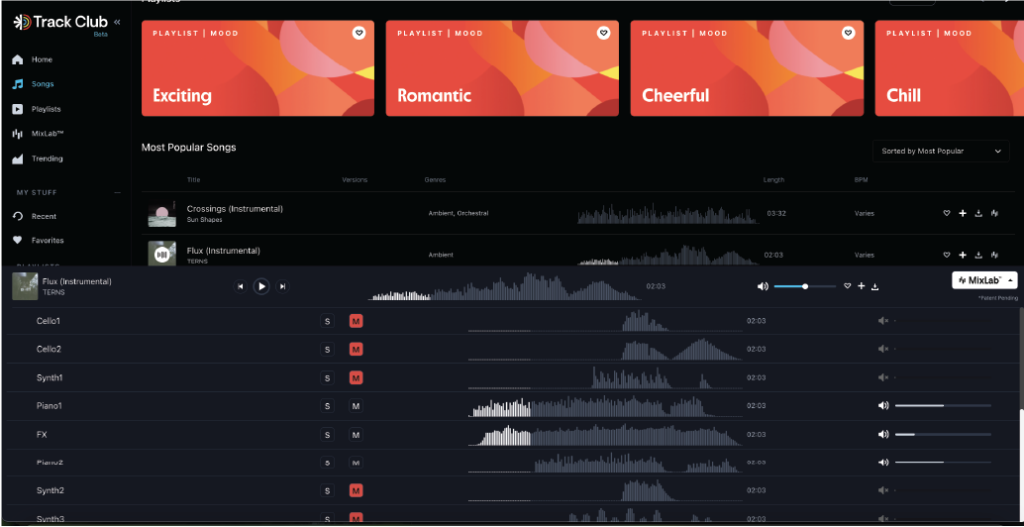 This is sounding great!  I'm now ready to export my song as a .WAV or .MP3 file and add it to my project. Once I'm satisfied with my final video, I'm ready to upload it, and make sure my content is cleared.
Step 4: Making Sure Your Content Is Cleared With TrackID
We all know that the legal world of music licensing is very complicated, so when using music in your videos, you want to make sure you have the proper clearance to use the track, otherwise you risk your video being flagged and taken down, the song being removed. Track Club's TrackID feature is amazing because it takes care of any ContentID claims you might get on YouTube automatically.
Since I have an Individual Account, I'm going to first go to my Track Club account settings, located in the top right corner, and click on the Channels option.
This gives me options for ensuring my content is safe on multiple platforms, but in this example, we'll use YouTube.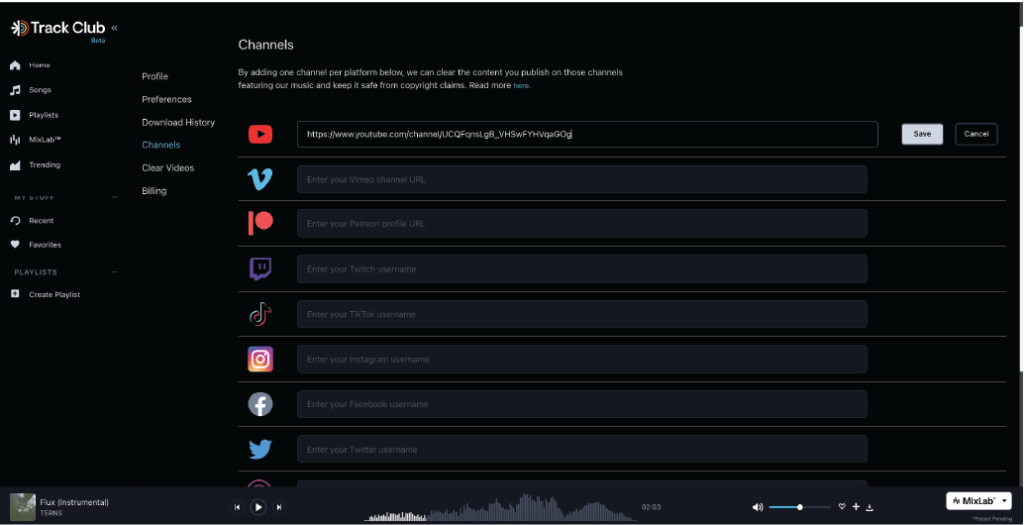 All I need to do is paste my Channel URL into the text form, which you can find in YouTube Studio, by clicking Customization and then Basic Info. Once I copy and paste that into the form and press save, this will guarantee that my Track Club songs are in the clear and I'm using them legally.
And that's really it! My video is finished and cleared to post. You can check out the final video below, and get started on your own at TrackClub.com! Feel free to reach out to us with any questions at hello@trackclub.com or check out our Knowledge Base.